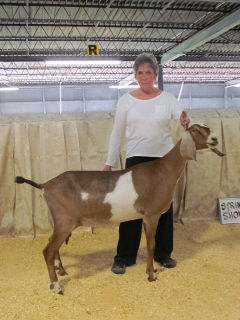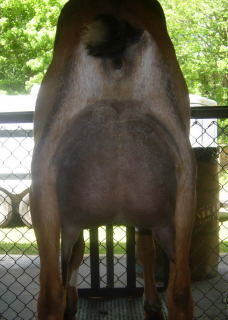 In Loving Memory Died February 2022
CH ROBINETT'S CAPRINES WILDCHILD AN1603295
S: Gaither Valley Ghost AN1469360
SS: Abelity Zeneau's Xtra-Smooth N1412773
SD: Gaither Valley LaCrema AN1367352
D: Robinett's Caprines Moonchild AI AN1472390
DS: SGCH Robinett's Caprines Bullet AN0749302
DD: CH Robinett's Caprines Moon-Beam AN1256036
Born 04/12/2012
LA 2-1 89 VEVV
Wildchild does not fit her name she is the sweetest most friendly
loving doe. She is red with white markings and some black trim.
She is a real smooth blending deep bodied doe with lots of dairy
strength and spring of rib.
Shown in 2014 as a first freshening 2 year old she finished her
championship placing 7 times 1st 3 times RES CH and 2 times
GCH.
Shown 2 times in 2013 she placed 2 times 1st and 2 times Jr.
Champion.
She has not been shown since becoming a Champion, I seldom
show Champion Challenge