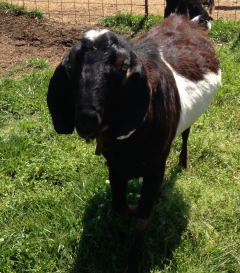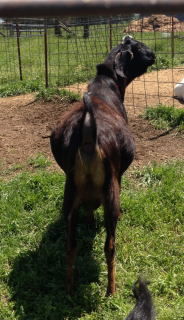 Robinett's Caprines Intrepid N1722675 AI

S: Kastdemur's King Of The Hill N1358094 AI ++*B
SS: Brown Sugars Crown Ambassador N0729928
SD: Lassenwood Miller Kiona N1231298

D: Kastdemur's Integrity N1497763 AI
DS: Sweet Harvest Show Time N1260765
DD: Kastdemur's Audacity N1229032

Born 3/11/2014
LA 4-1 84 +VE
DNA

Black with solid ears and brown trim white markings.
He is a deep bodied buck with tremndous spring of rib.
Shown 2 times in 2015 as a kid he placed 1 time 1st and 1 time 2nd.
In 2018 we freshened his first daughter in our herd and we were very
happy with her. We are looking forward to seeing more of them fresh,
his litter sister is Intimacy who has a lovely mamery with plum teats.