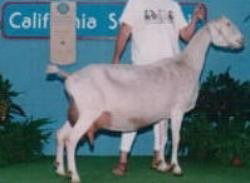 GCH Robinett's Caprines Spring
1992 ADGA Recorded Grade
National Champion
Welcome to Robinett's Caprines Nubians web site.
We are located in Dover Arkansas which is located in the north
central part of the state at the base of the Ozark Mountains half
way between Little Rock and Fort Smith just north of I-40.
We raise both Purebred and American Nubians. The lines we
work with is all out of top genetics and are priced accordingly.
Robinett's Caprines started in the 70's in Sonoma County
California as a 4-H project for my daughter and has continued
ever since. We show both locally and nationally and participate
in ADGA performance programs. We were on continuous DHIR
for over 10 years in California and continue to linear appraise as
often as possible.

Our does are fed Alfalfa hay and a good quality grass hay along
with a 16% grain. The milkers are raised separately from the
young stock and graze an 8-acre pasture. The kids are pulled at
birth and raised on a CAE prevention program being fed a heat
treated colostrum and pasteurized milk. They are feed a decox
grain "total goat" until they freshen and eat the same alfalfa and
grass hay as the milkers.
The bucks are fed a good quality 14% grain and get free choice
grass hay as well as Alfalfa Hay.
All animals get loose minerals and baking soda free choice
along with limited kelp.

2023 kids will start to arrive March 3rd thru May.
We will be freshening about 14 does this year about 1/2 of what I usually do, due to loss of my Husband in March of 2022 and having shoulder replacement surgery in November of 2022. I am needing to keep the workload down and will be selling a few milkers as they freshen in an effort to reduce the herd size. We will be selling milkers from $500 and up. I will be updating the information on which milkers will be available as they freshen, so keep checking back.

We randomly test for CAE and G6s and would be happy to test
any FOR SALE animal at buyer's expense.
We also started doing DNA testing on our bucks in 2018 and
hope to continue.
G6S tested animal's results are listed on individual animals
information.