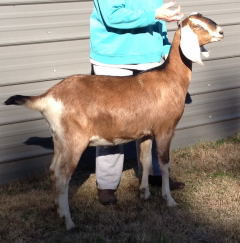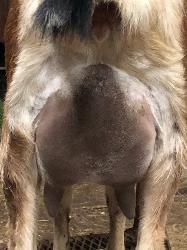 Robinett's Caprines Timeless N2011614
Sire: Robinett's Caprines Majestic'
SS: Robinett's Caprines Candyman
SD: Kastdemur's Simply Marvelous

Dam: Robinett's Caprines Simply Time AI
DS: Kastdemur's Time in a Bottle
DD: Kastdemur's Simply Marvelous

Born 2/5/2018
DNA
G6S normal by parentage
She was never shown as a kid, shown 4 times as
a dry yearling, she placed 1 X 3rd and 3 X 2nd.
Timeless freshened as a 2-year-old with a
beautiful udder high and wide rear and milked
really well.
I hope we have a normal 2021 show season
because I would really like to get her out to see
how she does with an udder.
She will remain dry for 2023
Does $500, Bucks $350