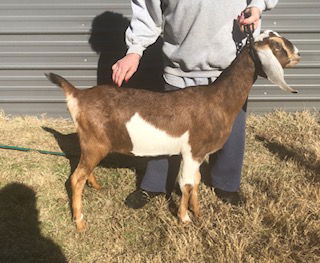 Robinett's Caprines Wildflower AN2151953
S: Robinett's Caprines CV Chalupa N1987859
SS: Robinett's Caprines Majestic' N1842716
SD: CH Robinett's Caprines Chulavista N1551885
D: Robinett's Caprines Fowerchild AN1976328
DS: Robinett's Caprines Hastlugeo N1843821
DD: Robinett's Caprines Lovechild AN1861505
Born: 5/13/2019
Brown and white with light brown ears and facial
stripe black trim.
Never shown
She will remain dry and be shown as a dry yearling.
There were no shows in 2020 so she has never been
shown. Shown 1 time in 2021 as a 2 year old she placed 1st.
She has been bred to Enchanter to Kid April 15, 2022.
Does $350 Bucks $150
1st doe reserved
Kidded 2 does